Welcome to the brand new version of AliCompare!
We have been working long and hard on this new version, which now returns much better results and allows you to easily compare products between sellers. Here's how it works.
Three buttons
When you are on a product page, you will see three buttons:
Find it cheaper
Add to Compare
See Compare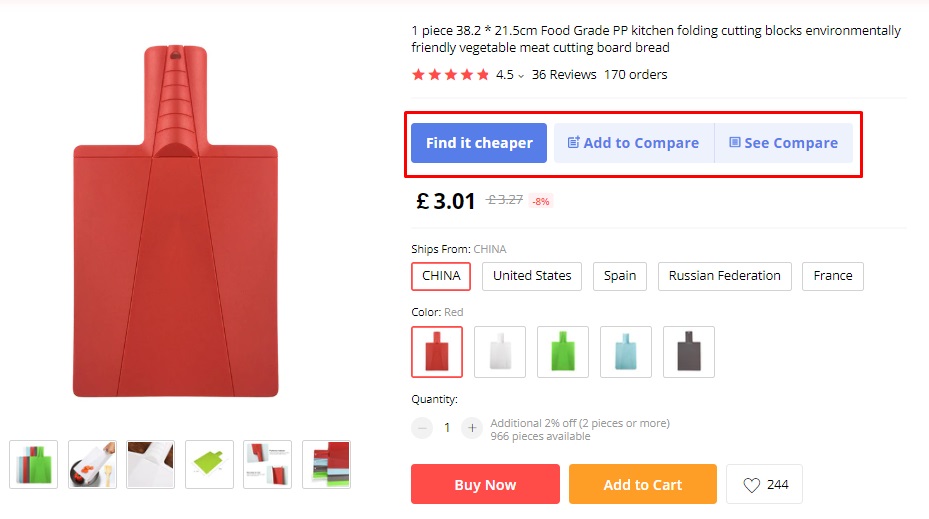 Find it cheaper
This button does exactly what its name implies: just like the old extension, it checks if other sellers have the same product. However, in this new version we have incorporated a new system that works by image search.
This will not only give you better results, but will also enhance the way you search for products by giving you the capability of searching individual product images.
For example, in the case of this cutting board you can now choose to search the green version: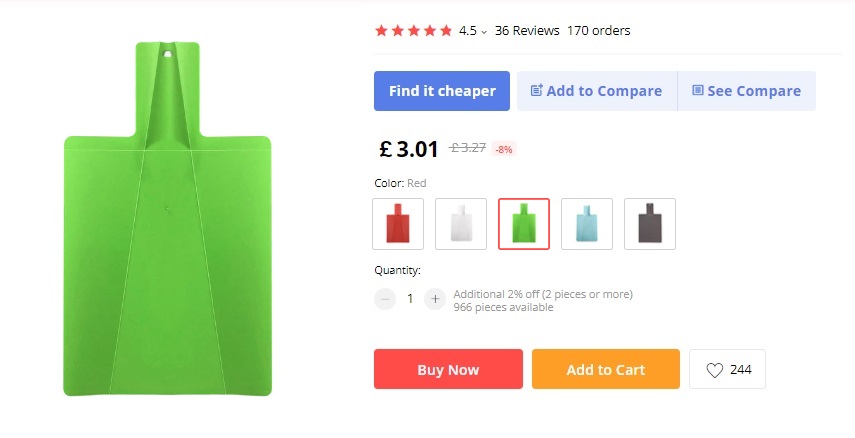 Simply click on the product you most like, then click on "Find it cheaper" and the extension will find all the sellers that have the green cutting board: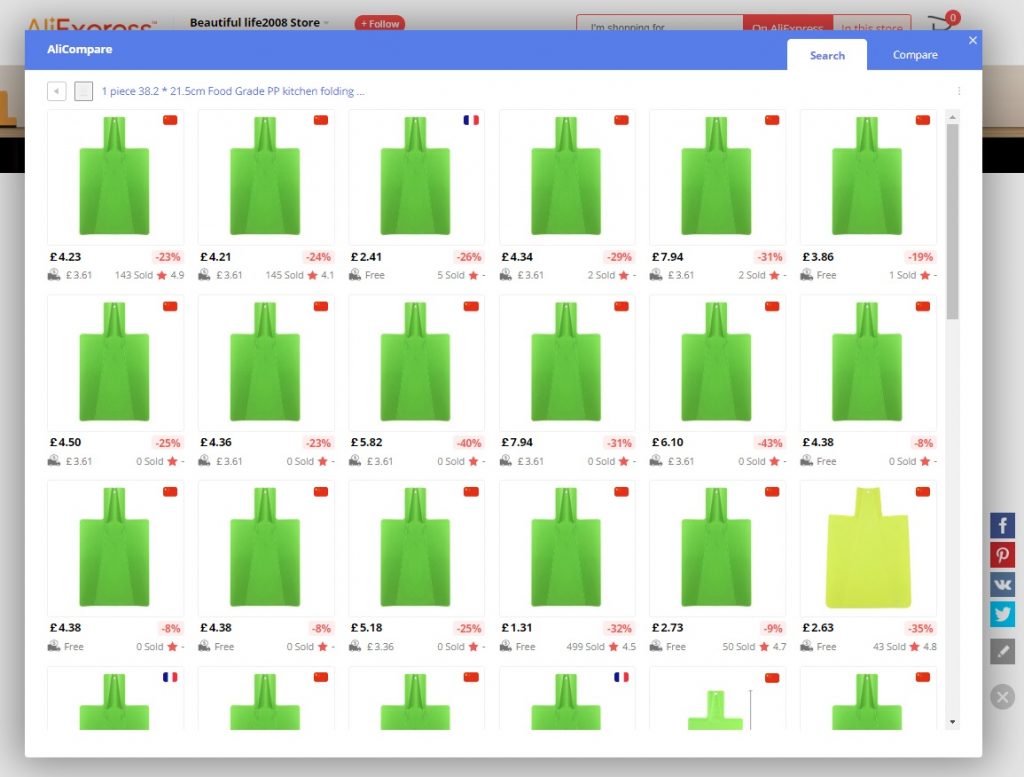 As you see in the image, a blue box will appear with amazing results (it may take a while, but we are working on making it faster). Once here you can do one of two things: click on a result to open it in a new tab or hit "Find more like this".
This second option is useful if you are looking for a rare product and there are few good results, this will allow you to keep narrowing your search until you find what you are looking for.
So what are the "Compare" buttons for?
The last two buttons ("Add to Compare" and "See Compare") are used to generate a small table to help you compare the products you find. Suppose you have found a product available in four different stores, each with its pros and cons: one ships from your country but barely has reviews, three others ship from China but one of them has a high shipping price and another one has complaints due to long delivery times…
By adding your favourite products with the "Add to Compare" button, you will be able to see a detailed summary of each seller so you can pick the best one:
Total price (including shipping)
Seller's reputation
Delivery time
Where it's shipped from
Etc
Just click on "View Compare" to access the table and compare all the products.

When you have chosen one and are ready to compare more products, "Reset table":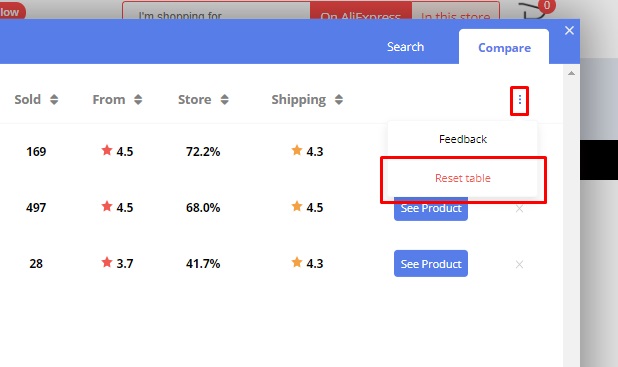 We really hope the extension helps you out. We humbly believe that it is very useful for when you have found a product you like but you are not convinced by the seller. It is also a great tool for when your favourite store has run out of a specific product and you are forced to search for a new one. Or even when you have found a product you really like but the shipping seems too expensive: simply use AliCompare and find a seller who has it at a similar price but offers free shipping.
Enjoy the extension!
Oh, one last thing, I would love if you could write a positive review in the Google Chrome Store, it would really help me keep the extension updated and free.
Update: problem with new AliExpress policies
The new AliExpress policies no longer allow Chrome extensions to automatically show new content on AliExpress without the user actively requesting it.
This means that we no longer have permission to show the three buttons automatically on the AliExpress pages, so every time you enter AliExpress you will have to click on the extension icon for the buttons to appear: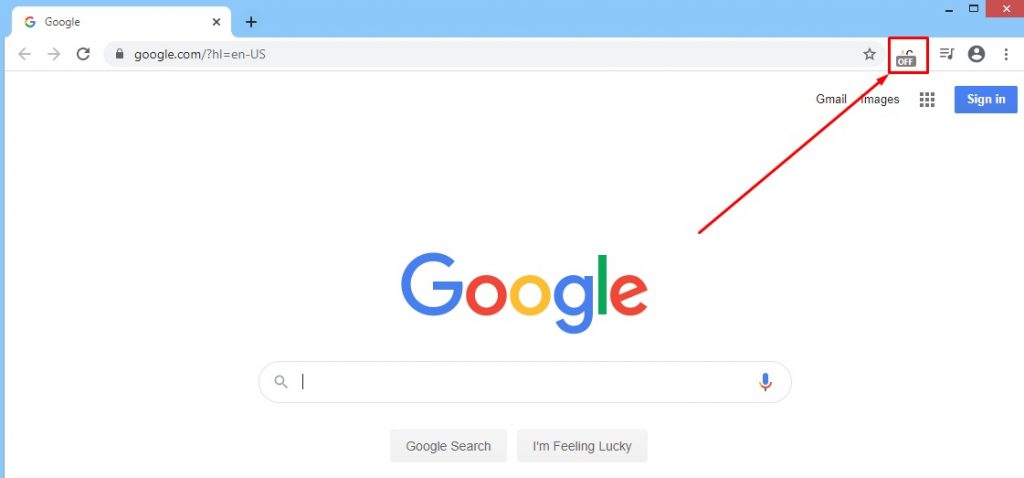 When you click it, the extension will be activated (you will see it says "on") and will be active until you close the browser. The next time you go on to AliExpress and want to compare products, you will have to click on the AliCompare extension again to activate it.
We are sorry for the inconvenience of this unnecessary extra click, but we have no choice.